Sermon from April 19, 2015, Easter 3B
Luke 24:36-48
36
While they were talking about this, Jesus himself stood among them and said to them, "Peace be with you."
37
They were startled and terrified, and thought that they were seeing a ghost.
38
He said to them, "Why are you frightened, and why do doubts arise in your hearts?
39
Look at my hands and my feet; see that it is I myself. Touch me and see; for a ghost does not have flesh and bones as you see that I have."
40
And when he had said this, he showed them his hands and his feet.
41
While in their joy they were disbelieving and still wondering, he said to them, "Have you anything here to eat?"
42
They gave him a piece of broiled fish,
43
and he took it and ate in their presence.
44
Then he said to them, "These are my words that I spoke to you
while I was still with you—that everything written about me in the law of Moses, the prophets, and the psalms must be fulfilled."
45
Then he opened their minds to understand the scriptures,
46
and he said to them, "Thus it is written, that the Messiah is to suffer and to rise from the dead on the third day,
47
and that repentance and forgiveness of sins is to be proclaimed in his name to all nations, beginning from Jerusalem.
48
You are witnesses of these things.
49
And see, I am sending upon you what my Father promised; so stay here in the city until you have been clothed with power from on high."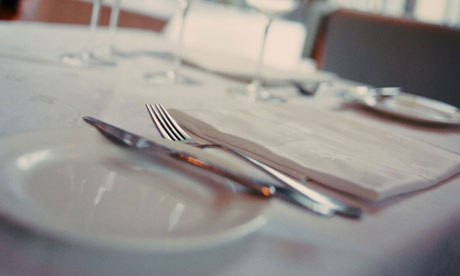 A few weeks ago on Palm Sunday, the Sunday School classes completed a series of classes on communion. On that last day, kids joined adults to make a picture of who was welcome at communion, which if you've seen the picture in the hallway, you'll see that it's everyone. They also baked bread for communion, and they wrote prayers to pray before taking communion. Somehow during that class, the presence of Jesus became real for my son who is almost 5, because that night, as he and I were setting the table for Sunday dinner, he had an idea. "I'm going to set a place for Jesus and his wife." I don't know about Jesus' wife, but at our house, we often pray, "Come, Lord Jesus, be our guest." We ask Jesus to be a guest at our house, to join us in our meal. But rarely do we think about what it would be like if he actually showed up.
Carravaggio's The Incredulity of Saint Thomas
Can you even imagine what those disciples thought when Jesus showed up? Luke tells us that they were startled and terrified. They thought they were seeing a ghost, or as the Greek says, a pneuma, a spirit. But Jesus says to them, "A spirit does not have flesh and bones like I have". And to prove it, he shows them his hands and feet, just like John told us in the story of Thomas, which we heard last week.


But here's where the story veers in another direction. Because instead of proclaiming, "My Lord and my God," they still need a little more understanding. In their joy, they were still disbelieving and they were amazed.
So Jesus says, "Hey, ya got anything to eat here?"
Of course. They knew Jesus by his wounds, like Thomas did. Jesus was the one who loved and befriended all sorts of people who screwed up, so they knew Jesus by his wounds, as the one who knew vulnerability and didn't leave them in imperfection while he took on perfection. But they not only know Jesus because of the wounds. What really seals the deal for them and identifies Jesus is eating with him.
Remember that eating together in Biblical times was more than just sitting in the same space. It meant claiming one another in community and being identified with one another. If you ate with someone who was unclean, you were unclean. If you ate with sinners, you were a sinner. Or if you ate with those who were honored, you were honored. Who you ate with mattered. Jesus, a rabbi, a holy teacher, sat at table with all sorts of people, feeding them in miraculous ways and healing relationships, simply by sharing a meal.
Jesus was one who sought out the lost and the least, those pushed out to the margins, those who were broken in body, mind, spirit, or relationship. He ate with them and talked with them and healed them. That's the Jesus they saw when he ate the broiled fish and the honey from the honeycomb. They recognized Jesus in the sharing of the meal.
What Jesus did next surely astonished these disciples, because Jesus then opened their minds to the scriptures and then commissioned them, giving them a new job. If they had been disciples, students following a rabbi, now they were apostles, ones sent out with a task- to share in all nations the good news of repentance and forgiveness of sins in the name of Jesus Christ.
What a monumental task that must have seemed to that little band of disciples.
And yet think of how Jesus did that very thing. He did it meal by meal, meeting people of all kinds, people who were good and kind and righteous and people who had made mistakes and were mean and criminal. He ate and talked with all of them.
Copyright Dan Erlander
As Jesus' apostles, ones sent out to share this good news of Jesus, we are invited to feast with Jesus, to be healed and restored and fed by Jesus. And we are invited to sit
and God's table with all those Jesus claims, which, as our Sunday School kids will tell you, is everyone. There's a place at the table for us all with the risen Lord. Jesus asks us to be his guest today, and then sends us out to feast with all of his beloved people outside these walls. Thanks be to God.