Pentecost 10B, August 2, 2015
John 6:24-35
24
So when the crowd saw that neither Jesus nor his disciples were there, they themselves got into the boats and went to Capernaum looking for Jesus.
25
When they found him on the other side of the sea, they said to him, "Rabbi, when did you come here?"
26
Jesus answered them, "Very truly, I tell you, you are looking for me, not because you saw signs, but because you ate your fill of the loaves.
27
Do not work
for the food that perishes, but for the food that endures for eternal life, which the Son of Man will give you. For it is on him that God the Father has set his seal."
28
Then they said to him, "What must we do to perform the works of God?"
29
Jesus answered them, "This is the work of God, that you believe in him whom he has sent."
30
So they said to him, "What sign are you going to give us then, so that we may see it and believe you? What work are you
performing?
31
Our ancestors ate the manna in the wilderness; as it is written, 'He gave them bread from heaven to eat.'"
32
Then Jesus said to them, "Very truly, I tell you, it was not Moses who gave you the bread from heaven, but it is my Father who gives you the true bread from heaven.
33
For the bread of God is that which comes down from heaven and gives life to the world."
34
They said to him, "Sir, give us this bread always."
35
Jesus said to them, "I am the bread of life. Whoever comes to me will never be hungry, and whoever believes in me will never be thirsty.
There once was a man who begged on the sidewalk outside of a fancy building downtown. Every morning, he watched well-dressed professionals disappear inside the revolving doors and reappear in the evening. One afternoon, as he took a break to walk around the building, he noticed workers unloading tray after tray of delicious hors d'oeuvres and platters of canapés from a catering van at the loading dock. That night, the man hatched a plan.
The next day, wearing a newly acquired suit from Goodwill,
he strolled into the building and took the elevator right to the top. He took a cushy seat at a gleaming table and listened attentively to presentation after presentation, asking questions and adding i
deas, just like everyone else in the room. At noon, just as he planned, waiters arrived, bearing tray after tray of delicious food. His plate full, he sat down, and the woman next to him turned and said, "Whoever you're working for is not paying you enough. I'd like to hire you." Stunned by his good fortune, he thought, "I'm only here for the food."
Like the man in the story, the crowds who gathered around Jesus came initially for the free bread. They were hungry, their bellies empty. But Jesus heard not just their
growling stomachs but also their cries for justice and their wails of grief. The crowds came for the food, but they received something better: the bread of life in the very presence of Jesus.
The bread of heaven is surprising. It's life-giving and more satisfying than we can imagine, and it sometimes doesn't even look like bread.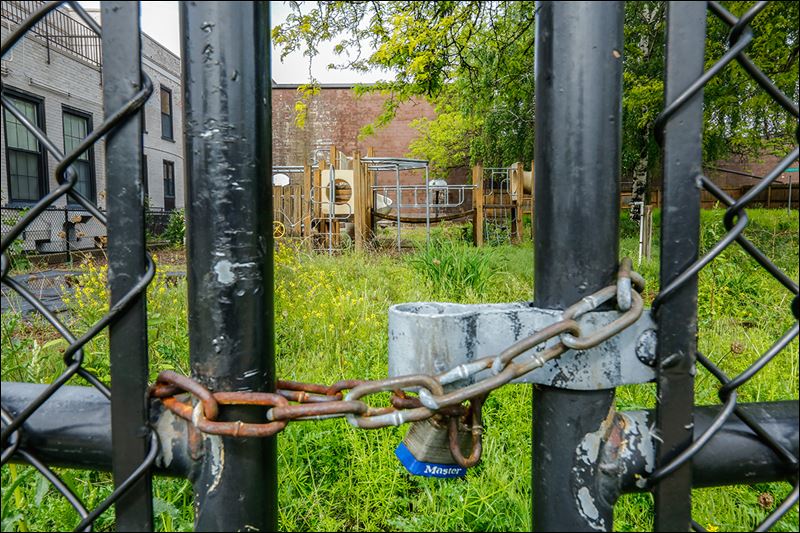 Picture by Andy Morrison of the Toledo Blade
Before the official start of the National Youth Gathering, John Townsend and I took the youth to Salem Lutheran Church, my internship congregation, which is in the heart of Toledo's inner city. People live difficult lives there- poverty and addiction are common, and hunger- physical, emotional, and spiritual- are a normal part of life. F
or more than 20 years, the church has been hosting a weekly food pantry and a weekly evening meal, all for free. A lot of neighbors show up. We met one guy who has been helping in the kitchen.
Salem Lutheran, a beacon of hope
He first started coming to the church for the food on Tuesday nights. But when his wife got sick, the pastor visited them at the hospital, prayed with them, and then did his wife's funeral. When his grief was heavy and he wanted to numb the pain with drugs,
the pastor helped him find a new way in life. When he felt alone, the church gathered around him and supported him. When he felt lonely and unloved, he heard of the love of God for him and everyone. He came for the food, but he stayed for so much more. Mr. Tony found the bread of heaven hidden amongst the loaves of bread handed out at the free evening meal.
We find the bread of life in surprising places- wherever there is grace, wherever there is surprising forgiveness or reconciliation. It might come when your spouse says, "I forgive you" or it might come when your kid invites you to play video games. The bread of life might come in a bag of produce left on your doorstep or it might arrive as an email from a long-lost friend.
The bread of heaven is surprising, it's unexpected, it's sometimes hard to recognize at first. Like the Israelites who received the manna, we might first wonder, "what is it?" But God knows what we are hungry for, and as Psalm 145 says, "God, you open your hand in due season and satisfy the needs of every living being." So, even if we came
first for the food, may we see and recognize the bread of heaven that comes to us, and may God satisfy our every hunger. Amen.